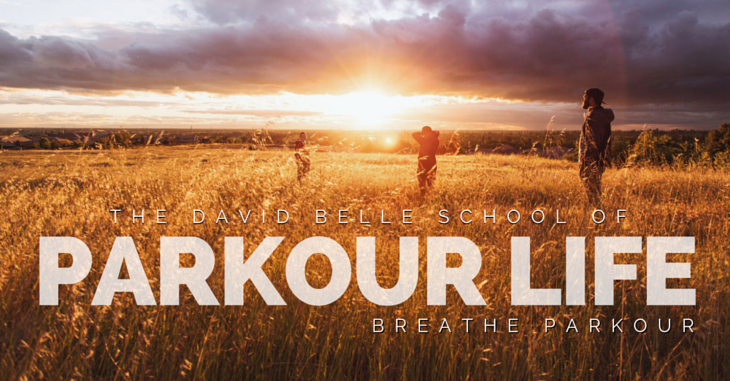 Today, Parkour is part of our mainstream culture. YouTube and social media have made the sport available to anyone. It has never been more popular than today. Yet, it is easy to forget where the sport came from.
Parkour did not begin as a way to look cool, or impress others. If you have read our "History of Parkour" article, then you will know that the origins of the sport come from a desire to improve one's life.
The founder of the sport, David Belle, and the other members of the Yamakasi started training this way to improve their lives. They wanted to push the limits of their identities. They strived for breakthroughs in their personal development, not create a new sport.
Parkour is not just a means to get fit, it can improve other areas of your life. Your training in Parkour can help you to become a better person. This article will show you how to use your Parkour training and skills to better your life in ways you never thought possible.
Parkour training can be difficult. Learning to overcome these difficulties will give you strength. But it is a mistake to think that this strength only exists in the world of Parkour. You should be training yourself to become a better person, not just an athlete.
The Struggle
All Parkour training involves a struggle. If you are going to get good at any movement, you must practice it over and over again.
The practice is often repetitive, but you need to do it. Suck it up and get it done. Fighting through boredom is the difference between amateurs and professionals. Those who sacrifice, reap the rewards of success.
This is the same for your life as a whole. Getting good at anything requires practice and time. Building your body and getting in better shape requires time. Learning a new language requires practice. Living a balanced lifestyle requires patience and sacrifice.
You need to learn to apply your Parkour mentality to the rest of your life. You will be a better person because of it. If you approach your life like you approach Parkour training, you will begin to build skills faster than you ever thought possible.
David Belle and the other members of the Yamakasi would train in the freezing cold to learn mental toughness. They would train without food or water to endure pain.
Learning to overcome the struggle in Parkour will teach you how to overcome struggles in real life. The next time you need to study for a test, apply the mental toughness you learned in Parkour. The next time you need to face one of your fears, remember how you overcome similar fears in training.
Remember what it feels like to fight through the struggle in Parkour, and apply that to the rest of your life.
No Excuses
The Yamasaki had one golden rule: no excuses. If someone had broken shoes and thought they couldn't jump, they had to do it anyway.
They did not allow for others to get lazy and talk their way out of any situation. You need to apply this to your life as well.
It is easy to make excuses for yourself. "I feel tired," "I'm sick," "I can't do it." Most of the time, these excuses are nonsense. Do not allow yourself to listen to them.
This helps if you have friends by your side. Get them to hold you accountable, and you do the same in return. If you let excuses get in your way, you will never become great. You will simply make excuses for the rest of your life, and accomplish nothing.
Humility
David Belle and the others made sure no traceur felt above the group. No one was superior to anyone else. Because of this, all of them stayed hungry to improve.
If you buy into the idea that you are as good as you think you are, you will never be great. All the great traceurs approach the game with the mind of a beginner. They are always hungry to learn.
You need to learn from this and adopt this mentality. This will not only help you in your training, but also in your life. Humility keeps us grounded in reality, and you will never become exceptional at anything if you live in a dream.
Don't believe your own hype. Never think you are good enough. Stay hungry to improve each day. Learn from everywhere you can. Kids on the street, grandparents, teachers, the guy at the gas station – anyone has the potential to teach you something. You need to be open to these experiences.
All the great traceurs do this.
Learn to Be Yourself
The ultimate aim of the Yamakasi was for all the members to find a way to be themselves. Whatever their personal goals were, the primary focus was becoming comfortable in their own skin.
They used Parkour as a means to test their limits. The improvements they made in training applied to their entire lives.
They used what they learned in training (focus, discipline, mental toughness) to go on and achieve great things in life. You need to do the same.
Remember what it is like to train Parkour. Remember how difficult it is, how much it hurts, and how long it takes. Then remember the rewards at the end of training. How good you feel, the new skills you have learned, and your improved self-confidence.
The next time you are facing challenges in life, remember what you have overcome in training. Apply that mentality to your life, and you will achieve great things.