Doug Hoffman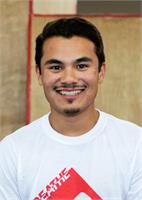 Job Title
Pro Trainer/Front Desk Rep
Specialty
Creativity/Flow
Why I Started Parkour:
I was introduced to Parkour by some friends, and immediately fell in love with it. I had always been interested in this kind of movement, and my friends helped me see how easy it was to start learning.
Why I Love Parkour:
I love Parkour because it allows me to let out my creative side. I am not very creative in any other way, but I love to explore different movements. I also enjoy Parkour because I can pass on my experience to my students. Parkour has given me so much happiness, and I love being able to share that with others.
Doug Hoffman instructs the following:
Our all day camps offer a great way to stay motivated, fit, and keep your skill up over the hectic summer months.

Level up with extra training, skill activities, and practice time!

Sign up before the end of June and save $50!

Early Bird Registration: $275

Cost: $325





Come shoot nerf guns in an awesome Parkour gym! And maybe do some Parkour as well! We'll do team games (dodgeball style, storm the hill, capture the flag, etc…) and also free for all! It's going to be great!